The Environmental Engineering Handbook has undergone a major update and is the most comprehensive manual in environmental engineering technology. The handbook covers the entire environmental engineering work area and is an indispensable aid in establishing environmental technical specifications, both national and international.
Environmental Engineering Handbook is intended to be an encyclopedia and give general guidance in the correct methodology for Environmental Engineering work, as well as fundamental rules and advice on how such work, correctly specified and verified, leads to a safe and reliable product. The Handbook is used also as a basis for Environmental Engineering courses and tutorials.
Environmental Engineering Handbook has been issued by the Swedish Environmental Engineering Society, SEES. The Society is affiliated to the Committee of European Environmental Engineering Societies, CEEES, an organisation which today comprises ten national member societies.
The Handbook originally appeared in a Swedish version in 1991, and from 1997 it can also be obtained in English. This updated edition (2019) is only published in English. For more information: technologybooks.online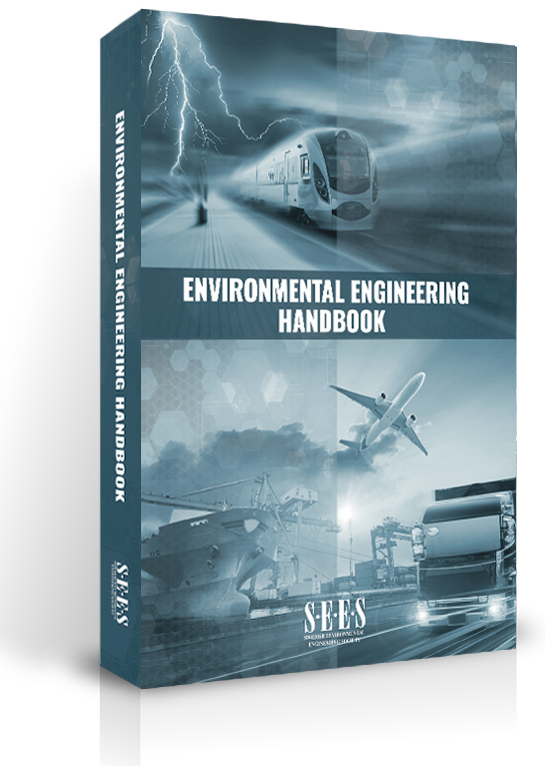 About SEES
SEES, Swedish Environmental Engineering Society, was founded in 1985 as a contact body for companies and institutions active in or having an interest in the field of environmental engineering. SEES organizes technology seminars and courses and informs about news in the technology area, is a referral body for environmental engineering standards and develops and updates educational materials in the area.
In 2018-2020, SEES holds the Presidency of the European equivalent – CEEES, Confederation of European Environmental Engineering Societies. The European Union is a forum for cooperation and information exchange within, primarily, European environmental sustainability work. CEEES also works for cooperation with the EU Framework Program for Research and Innovation.